General Help
How do I contact redlinewatches.com?
Please contact us at 1-866-746-7794, Monday to Friday from 9am to 5pm EST.
Or Email Us
Are the watches on redlinewatches.com authentic?
Yes, the red line watches found on redlinewatches.com are 100% authentic. They are designed and manufactured by red line and distributed by red line and authorized retailers globally.
Where can I buy red line Watches
Click Here to find the fine, authorized retailers of red line watches.
Operating Instructions
Helpful Watch Tips:
It is recommended to rinse your watch with fresh water after contact with salt water.
It is recommended not to use the crown or pushers if the watch is wet and certainly not while it is immersed in water.
Water resistant watches should be inspected and serviced once a year.
A Quartz Watch is battery powered and does not require winding. Eventually the battery will need to be replaced.
An Automatic Watch is a mechanical watch that winds itself and does not require a battery. When worn daily, the movement of your wrist causes the mainspring to wind progressively, eliminating the need for additional winding. To start your automatic, you can hand wind it by rotating the crown clockwise a number of turns while in its normal operating position (screw down crowns will need to be unscrewed first), or by swinging it side to side for 30 seconds. We recommend housing an automatic in a watch winder box.
A Manual Wind Watch is a mechanical watch that does not require a battery, but can only be wound by hand. To wind it, turn the crown clockwise while it is in its normal operating position until you feel resistance. This type of watch should be wound daily.
Important Things to Know:
Many red line watches are equipped with a screw down crown to help prevent water infiltration. For watches with a screw down, you must first gently rotate the crown counter-clockwise until it springs out. The crown must then be gently pulled out to the appropriate position for time or date setting. Never correct date between 9:00PM and 1:00AM.
It is very important after setting your watch that you gently push in and screw down the crown firmly to ensure water resistance.
Not screwing down the crown will cause water damage and void warranty.
To serve you better please register your red line watch below.
5-Year Limited Warranty
We believe in the watches we sell and know you will too. The red line warranty gives you confidence of knowing your watch is covered by our 5-Year Limited International Warranty and by a team of people who truly care.
Your red line watch is backed by a 5-Year Limited Warranty from the date of purchase. This warranties your watch against any manufacturer's defects: functionality, material, and workmanship. This warranty does not cover the watch case, bracelet, strap, crystal, battery or crown, pushers or stem of the watch; it does not cover the watch against abuse, accidents, normal everyday wear and tear, weathering, aging, and battery replacement. If your watch is in need of a battery change, it is recommended that you send it to our service center. In the case of a replacement, red line does not guarantee you will receive the identical watch model. If the model is not available, a watch of equal value and similar style will be sent to you. The warranty for the replacement watch ends five years from the date the replacement watch is received.
For service not covered under this warranty, our service center may perform the services you request for a charge dependent on your watch style and type of work requested. These charges are subject to change. You will be notified prior to performing the services and your authorization is required.
To serve you better please register your watch below.
If your watch should require service during the period of warranty, please contact us at 1-866-746-7794 or email us at info@redlinewatches.com.
Clasp / Buckle Operations

Buckle Clasp
is a strap buckle is and a common clasp closure identical to those found on belts. It features a loop and pin that are secured through the holes on the strap.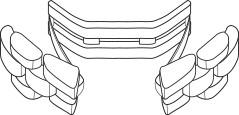 Deployment Clasp
is a type of bracelet closure with a clasp that opens and folds out. It easily locks into place with a latch mechanism inside.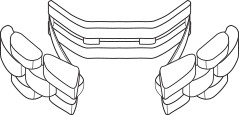 Hidden Clasp
is a hidden deployment clasp, also known as a butterfly clasp, which opens at both ends of the bracelet and resembles a butterfly's wings when it is fully opened. The bracelethhas a seamless look when completely closed.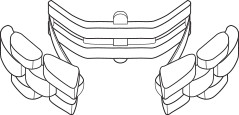 Push Button Hidden Clasp
is a push-button hidden clasp is a hidden or butterfly clasp with a push-button release mechanism that easily opens the clasp. Push-Button Deployment Clasp is a single locking deployment clasp with a push-button mechanism that easily opens the bracelet. The push-button mechanism serves as a safety feature, since the bracelet will not open unless the push-button is released.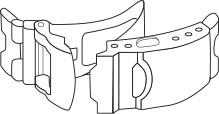 Push-Button Foldover Clasp With Safety
is a deployment clasp with a push-button mechanism that opens the bracelet, along with a fold over closure on top that provides a second layer of security.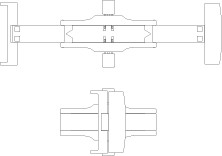 Deployment Buckle Clasp
is a hidden or butterfly clasp used on watch straps. One end of the clasp is attached to the strap on one side, the other end of the clasp requires fastening onto the holes of the strap for a comfortable fit. The clasp easily opens and closes for added convenience and avoids the user of having to adjust the strap length after the first use. Many watches from Lucien Piccard feature deployments clasp buckles on their premium leather and exotic skin wristwatches... a sign of distinction and security.